I was westbound on IH 10, in between Port Arthur and Austin. I was right in front on Jerry Mikeska's Famous Barbecue when traffic came to a halt due to a torrential storm. This really sucked because I had to pee for over an hour before the traffic jam. Traffic did not move for about five minutes and by this time I really really had to go.
The pouring rain was tormenting me. A Cadillac was stopped in front of me and another Cadillac just like it was stopped in back of me. There was an eighteen-wheeler stopped next to me on my right. The storm was incredibly strong with winds upwards of 60 miles per hour coming directly from my right hand side. I thought I was in a good spot because the eighteen-wheeler was shielding my car from the flying debris. Boy was I wrong.
Well I happened to have a zip-lock bag in my back seat so I grabbed it. My windows were full of rain and everyone in the vehicles around me was preoccupied with the severity of the storm so I . . well I commenced going to the restroom using the zip-lock bag.
Just as I finished and zipped up the bag, out of the corner of my eye I saw the eighteen wheeler falling down toward me and my car. I heard a big BOOM. The strong winds blew the rig over on me! I immediately jumped the hell out of my car.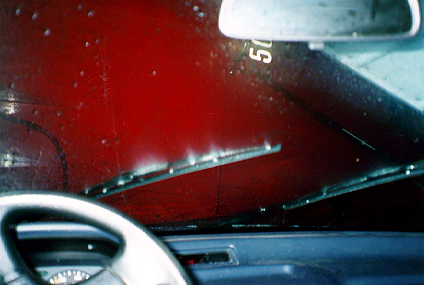 My shorts were still down to my ankles.
I immediately pullied my drawers up. I had gotten instantly drenched by the time they reached my waist. It was a total and complete trip. I checked to see if all the other drivers where OK. Luckily, nobody sustained serious injury.
This was just another incident in the life of David Estrada - Stuntman Extraordinare!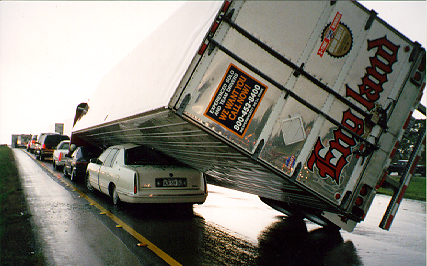 ---
Fallout from the crash
I posted this page several years ago and many, many viewers found it on the web. I shortly found out that due to language barriers and mental incompetencies, many people actually thought I was a professional stuntman. I received numerous e-mail's from making this page. Here are a couple of my favorites - exactly as they were written:
From: - - - - - @prodigy.com (CAROL)
To: - - - - @flash.net
Subject: stuntmen
Date: Sun, Feb 28, xxxx, 5:07 PM
My name is Carol. I enjoy reading book and videos of stunt people. What movies are you working on now? Hope someday I can meet and watch stunt people working but I know it is hard to get on a set to watch. Maybe I can watch you in action. Do you work in Los Angele or San Diego or out of Ca or autograph picture of you> Carol IN CA n Siupleewm
My response:
Hello Carol. You must be referring to my car crash pages. Thank you for taking an interest in my career. I do not work in California. I am currently seeking (avoiding?) stunt work in Austin, TX. I would be happy to send you an autographed picture of me. Just send me your address and I'll drop one in the mail. It is fans like you that keep me going. Thank you for your support.
Best regards,
David Estrada - Professional Stuntman
* I sent the autographed picture
---
From: "Teresa" < - - - - @repubblica.it>
To: - - - - -@flash.net
Subject: stunt
Date: Fri, Oct 29, xxxx, 6:14 AM
J'm an italian journalist and J've red your profession is going down because of the use of computer and graphics. Is that true? J'd like to have a answer from you and also to know something about what you do J work for daily newspaper la Repubblica and you can answer me to this e-mail address xxxxx@tiscalinet.it
thanks a lot
teresa
My response:
Teresa,
Thank you for your interest in my lifelong career. It is a pleasure for me to answer your questions. I do not know about other stuntmen, but computers and graphics in conjunction with the Internet have in fact raised my profession. I have received many inquiries about me and my way of life. Currently I am retired from my role as a stuntman. But you never know, I may be called to duty when I least expect it.
Sincerely,
David Estrada - Professional Stuntman
P.S. If you would like an autographed picture of me, I will be happy to send you one